"You can discover more about a person in an hour of play than in a year of conversation" Plato
Hands-on interactive game-based business simulations are perceived as only being valuable for learning and development events. Here is another reason to run one.
Jack Welch envisaged the "boundaryless organisation".  But how do you get there?
You recruit the best people in their field. Everyone is an expert and brings their unique strengths to your organisation. Sales, Purchasing, Operations, HR, Finance, IT, R&D….. You name it, you have brought in the best of the best.
However, individual high performance does not always lead to a collective high performance. How do you break down the silos and get everyone to understand how what they do impacts the business overall? How can everyone work better together to achieve a high performing team? How can the whole be greater than the sum of its parts?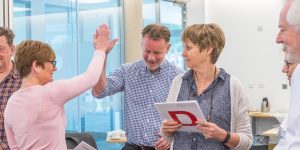 Business Simulations bring all the players into the same room. They form teams and run businesses. As a collective they take decisions about ALL aspects of a business and within an hour they see the results of those decisions. Time pressure means they have to quickly work out what is and isn't working in the competitive environment. It's an iterative process and suddenly the sales person realises that his inaccurate sales forecast results in operations not having enough stock to fulfil orders or too much stock which damages working capital. HR realises that by not having the right people in the right place, customers do not get their deliveries on time which means they don't pay their invoices on time, resulting in a negative impact on cash, not to mention reputational damage. Finance professionals realise that by choosing not to invest in marketing and therefore keeping down costs, they don't win any business. Suddenly there are "a-ha" moments going on where everyone realises and values the importance not only of what their colleagues do but how it all fits together.
The Business Simulation combines work with play to create a greater awareness and understanding of what colleagues do. This, in turn, promotes trust. Trust leads to closer team working.
And, best of all, it is FUN!