About Creating Value
Creating Value is the result of Harry McLean and Nicky Lawlor's combined belief that business success today is achieved through every person within an organisation being able to understand where they fit in to the 'big picture'.
Creating Value specialises in building commercial and financial acumen through interactive training programmes, hands-on business simulations and facilitated workshops. The simulations are board-based events which provide a holistic understanding of how a business obtains and invests its cash, generates profit and manages cash-flow and other assets.
Creating Value works locally and globally in all sectors. Language capabilities include Spanish and French and they are able to call upon associates from an international network of highly skilled professionals.
These associates all have a background and proven track record of working in a variety of sectors, locally and globally. They bring real business experience into the classroom to ensure applicability and relevance in today's business environment.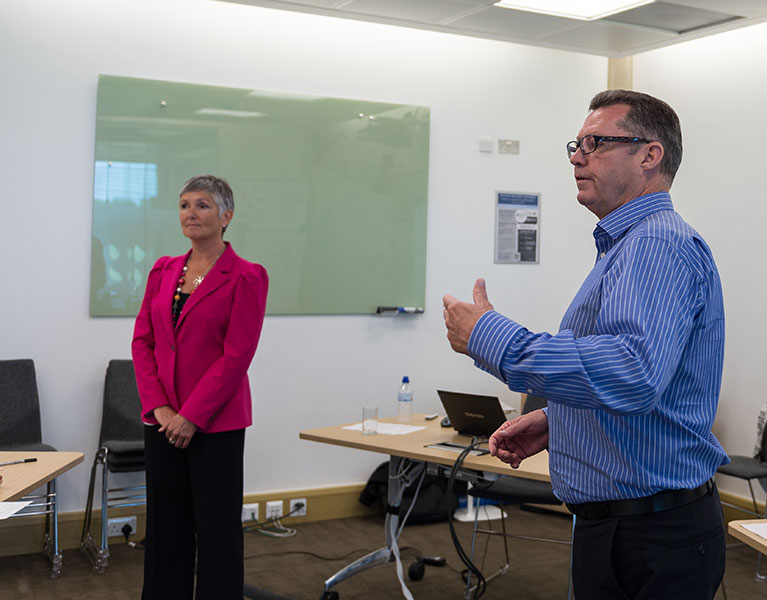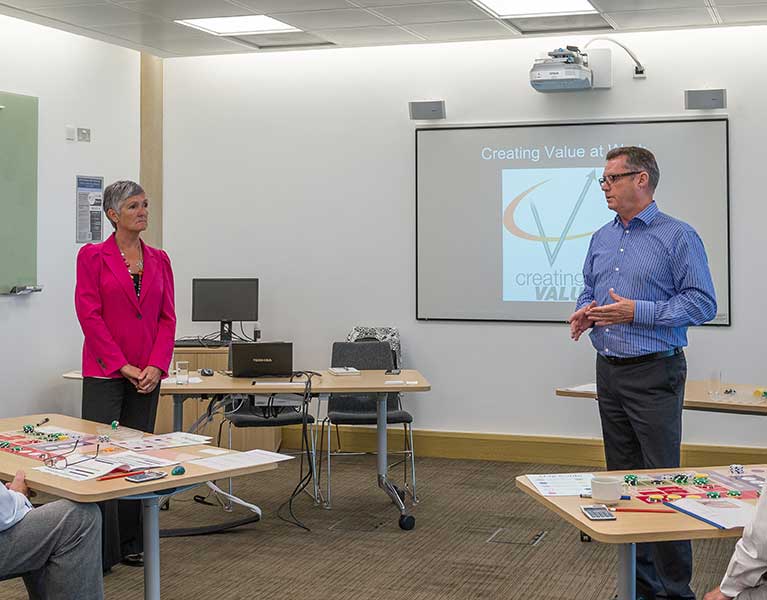 Creating Value's simulations are powerful training interventions. They provide a rapid, effective and fun way to teach participants how business works and how they can each make a difference, not just to the bottom line, but in creating value across the whole organisation. They learn by doing. Furthermore, the highly visual and tactile nature of the training ensures effective transfer of learning to the real business environment.
Meet Harry
Harry is a training and development practitioner with over twenty years' experience in the field. Before entering the training environment, he spent seventeen years in the banking industry and also served for twelve years as a British Army reservist.
Harry is widely recognised for his ability to inspire and motivate clients – both teams and individuals – through his use of simulation-based methodology. He is renowned for designing and implementing training solutions that easily communicate difficult content while stimulating positive new modes of behaviour in the participant. This innovative brand of training has helped a wide range of national and international companies, organisations and individuals achieve success in enhancing their business acumen.
"My decision to get out of banking and 'go it alone' was the best of my working life," Harry says, "and when I was exposed to finance through business simulations the blinkers came off! Even after all these years, it is still exciting to help people and organisations truly understand the mechanics of business through the dynamic hands-on experience of actually running their own businesses in the classroom simulation."
Meet Nicky
Nicky has a background in teaching and training with a particular emphasis on senior management development: producing and facilitating workshops and training programmes to increase management capability.
She is a chartered member of the CIPD (Chartered Institute of Personnel & Development) with a specialism in Learning and Development and also possesses a Master of Science degree in Business Leadership. Nicky's eclectic CV includes a five-year tenure working at the European Commission in Brussels, ten years based in Mallorca working for Compass Group plc with a global remit, and five years spent teaching.
Nicky was introduced to the world of business simulations through her professional involvement in corporate talent development and action learning, and it is a field Nicky is passionate about. "I enjoy helping people get 'the big picture' of how business works," explains Nicky, "and I especially love it when they have that lightbulb moment of understanding and suddenly know what they can do to contribute to a business's success."
I have worked with Nicky Lawlor since 2005 in various business contexts. Most recently she has worked with me on a Management Development Programme for a manufacturing/sales client in 2013 and 2016, using the very good finance Business Game. I will again invite Nicky / 'Creating Value' for the same purpose next year, for these reasons:

She is adept at scoping the assignment, and adapting how the business game works to meet the client's needs.
Nicky is an excellent facilitator. She is professional in delivering the process, against tight timetables, but is also very good at coaching individuals, until they grasp the concept.
Nicky also shows flexibility in being able to 'tweak' the process, as we go along, to meet participant needs in the moment.

In summary, a pleasure to work with! Highly recommended.
Harry McLean has worked with Alcoa for several years, focusing on the delivery of experiential learning in the area of Financial and Business Awareness. Many approaches to raising financial awareness are dull, uninteresting and rely on lecturing to a large degree, often leading to poor learning outcomes.

Creating Value has a refreshingly different approach which uses learning by doing to achieve a much more powerful learning impact.

Harry McLean has in-depth skill and knowledge and has made the effort to get to know Alcoa so that it informs his approach and enables him to put the training in context. He is a true professional who has worked at a senior level but he has the common touch and can relate very well to people of any level of seniority or responsibility. His enthusiasm and positive persona are infectious and these in turn facilitate the attainment of positive learning outcomes that can be and are transferred to the workplace.

Consequently, I am happy and have no hesitation in recommending Creating Value as a high-quality provider of training services.
We have been working with Creating Value for several years and we use the simulation they have developed for selecting our London summer placements. It is an excellent method of assessing large numbers of candidates over a relatively long period of time. Candidates become so involved in the exercise they forget completely that they are being monitored and assessed.

As a firm, we save many partner hours by being able to assess up to 90 people in one day. We receive outstanding feedback from the delegates, even if they are not selected for a placement, and many feel it offers them the opportunity to develop key skills such as commercial awareness, working in a team, and time management.

Harry and Nicky make the day incredibly easy for us and their infectious enthusiasm spreads to us and the delegates alike.
Harry McLean leads fantastic workshops! As an academic, I envy his ability to animate a room, vivify financial material, and really engage with people as they learn and practice new skills. He's got a great way with traditionally "hard" or even "boring" material like accounting, making it come to life in the real to-and-fro of business operations. Any business or organisation can benefit from his style, the exciting sessions he leads, and the complete professionalism, verve and expertise he brings to his work.